…von Katja Krummbach (8d), Merve Yilmaz (8e) und Friederike Dunkelgod (8b). In diesem Schuljahr haben die 8. Klassen im Rahmen des Englischunterrichts "Travel Blogs" verfasst. Es stand ihnen frei über einen erfundenen Ort aus Buch oder Film oder einen realen Ort zu schreiben. Die SchülerInnen konnten also ihrer Kreativität freien Lauf lassen und dabei ihre Schreibkompetenz erweitern. Gemeinsam haben wir drei Beispieltexte ausgesucht und möchten euch und Sie an den tollen Produkten teilhaben lassen.
A trip to Paris
Bonjour! If you now thought that we were in France, your right. Last weekend we flew to France to see the wonderfull Paris and it was fantastic. On saturday we walked around Paris and on sunday we went to the gallary lafayette and did a shoping tour. On the roof we were able to see a big part of Paris at once. We didn't do a lot more on sunday, because we flew back to hamburg, so that's why we're only going to tell you something about our day in Paris.
In the mornig we walked to a fantastic boulangerie, which is near Notre-Dame, and ate breakfast. Their croissaints were really good. Afterwards we went to the Cathedral Notre Dame, which was just a few minutes away. Around the Cathedral was a big construction because the church towers burnt down a few years ago and they were repairing it.
Then we went for a short walk to a museum, where the Mona Lisa hangs. The Louvre! Originally it was planned that we go in there but it was just way to full. That's why we just saw the glass pyramid. It looked a bit smaller than expected but it was really beautiful. After that we walked over the "Pont des Arts"-Bridge, which goes over the Seine. There you can see an incredible view from the Skyline of Paris. Even the Eiffel Tower! We took gorgeous pictures to memorise this wonderful trip. When we we're done taking photos, we went straight ahead to a nice Park called "Jardin du Luxembourg". There was a Café near by  were we bought a "Pain au Chocolat" for both of us. In english it means chocolate croissant. We did a short break in the Park, were we also at our yummy chocolate croissants.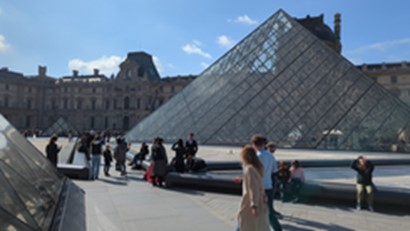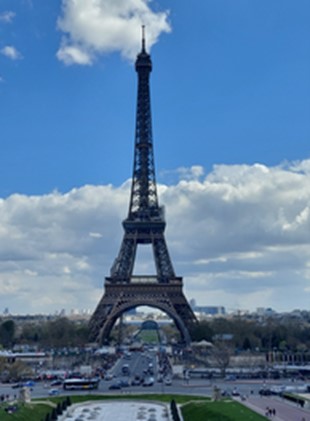 Then we continued with our sightseeing tour to our highlight. The Eiffel Tower! It was huge and in the Park next to it was a small one😂. Of course we did a lot of pictures! We stayed there a bit longer and thought about eating some special foot in a real french restaurante. We looked at some of the menu cards in a few restaurants. They all turned out as very pricy. The restaurants around the Eiffel Tower have a higher price compared to normal french restaurants. But we still wanted to eat there . When you're going to France, you need to try their delicious food. We tried "Moule Frites", which is french fries with mussels, but we didn't liked the mussels. After that we ate a some crepes. In Paris it is normal that you can get Water for free. Why don't we get water free free in Germany? As dessert we had "Mouse au chocolat", which was the best we have ever eaten. The food war very delicious and we can recomment everything (exept the mussels we didn't like).
When we were done eating our food went down the Champs-Elysée and saw the "Arc de Triumphe" We made lots of cool pitures and then we went to the basillika Sacré-Coeur by bus, because it was late and we were both tired . We got there right before the sunset. The Sacré-Coeur is on a mountain and you have an incredible view over Paris. That's why we went up all the stairs and set on them to watch the sunset. We even saw the sparkling Eiffel Tower! After that nice day we went back home.
All in all it was one of the best city trips that we've done in our life so far. Hope you enjoyed reading and have a beautiful day😊.
Jule and Rebecca, 8b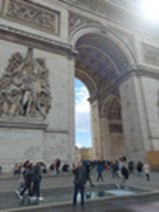 Hogwarts in real life?
In London
Magical atmosphere,
here you get a butterbeer,
wonderful, delicious food,
with an enchanted mood.
You can experience all of these beautiful things in the Harry Potter Studio Tour in the Warners Bros Studios London, to have an unforgettable look behind the scenes.
It's a dream for all the Harry-Potter-Fans, because here you can enjoy the breathtaking view of the Diagon Alley, Hagrid's hut or the big Hogwarts-express.
If you want to you can also go outside and visit the exterior part to travel with the glamorous Hogwarts-Express and see Harry's home in the Number 4 Privet Drive.
There you can take photos with the flying car of the Weasleys or the knight bus.
Since 2017 you can also run in the forbidden forest or visit Hagrid's hut, where you can see a statue of Hagrid or the house elf Dobby!
In the Diagon Alley you can find many different shops: Go to Ollivanders, to look for a wand or buy some funny sweets and drinks in the Weasleys' Wizard Wheezes!
Only 32 kilometres from the Studio is the Wizard Chamber in a Georgian House.
It's a hotel where the bedrooms are just like in Hogwarts with wood-burning stoves, witches' cauldrons over fireplaces and tapestries!
So wave your wand, let yourself be charmed and toast with a butterbeer!
Sources:
Picture 1: https://www.viator.com/de-DE/tours/London/Warner-Bros-Studio-Tour-London-The-Making-of-Harry-Potter-with-hotel-pick-up/d737-5528P61
Picture 2: https://www.pastryaffair.com/blog/2011/7/14/butterbeer.html
Picture 3: https://www.universalorlando.com/web/en/us/things-to-do/shopping/weasleys-wizard-wheezes
Information:
https://www.urlaubsguru.de/reisemagazin/harry-potter-hotel-georgian-house-in-london-eroeffnet-hogwarts-zimmer/
https://www.universalorlando.com/web/en/us/universal-orlando-resort/the-wizarding-world-of-harry-potter/hub
https://www.urlaubsguru.de/reisemagazin/harry-potter-hotel-georgian-house-in-london-eroeffnet-hogwarts-zimmer/
https://www.wbstudiotour.co.uk/de/explore-the-tour/props/
Katharina, 8d
My trip in Texas
heyyy guys and girls,
Texas is amazing.
I was really afraid of visiting Texas in the first place because you know about all the mov-ies where the people from Texas are just shooting around themselves all time murdering who ever is in their way. And the fact that we in Germany aren´t even allowed to have weapons made my fear even more worse.
That meant that I had a kinda bad excitement- but I was willing to go there anyway.
So I went to the hamburg airport and there it was, already the first disaster: My cat Divo ran away at the airport and I had to run after him and felt like a puppy who is chasing his tail. Luckily he ran into a woman who managed to catch him and hand him back to me. Sometimes he is just my little roadrunner and I´m the coyote.
Anyway after this interruption I caught my flight but barely. The flight was about 10 hours and I slept most of the time. Actually I slept all the time till we landed in Texas.
I woke up by the uncomfortable pressure in my ears as we started to arrive.
I got out of the plane and managed to get out of the airport with my cat and with all my luggage in under an hour which was extremely fast. I waited outside for my Taxi to Cor-sicana.
When the Taxi arrived a huge man who i would basically define as a giant with greasy hair helped me with my luggage and drove me to the Navarro college. Now you finally know: I visited my cousin Morgan at the Navarro College. The only reason I overcame my fear of the weapons is that I was allowed to go to their training.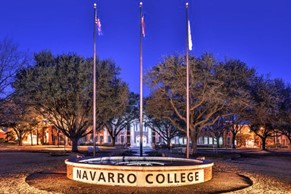 Okay back to my arrival at the Navarro College.
So the taxi driver dropped me of in front of the college and when he got out of the car he hit his head but he tried to put on his game face so that I wouldn´t notice his pain.
I paid for the ride and called Morgan on the phone to come out to pick me up.
She answered the phone pretty quick and about 5 minutes later we walked around the campus to her dorm.
We went inside and I met her room mates Sherbs and Lexi they are all on the famous Na-varro cheer team and were very kind and fun to talk to. Also Divo really seemed to like them and so did them. I was relieved cause I was a bit scared they wouldn´t like me but they were very open and put me into their group very fast.
I just had time to put my luggage under the couch and had to change into work out clothes because the team had a practice and I obviously wanted to come with them.
On the way to the gym they told how exited there were about the competition in Daytona and about if they gonna make the mat.
When we went into the gym I saw all the athletes warming up and Monica. I WAS SHOCKED
She was extremely friendly and even let me participate in the Training. You wouldn´t be-lieve how incredible talented they all were.
After practice we had dinner and they told me about them a little more.
Morgan still often visits our grandparents and Lexi and Sherbs used to live with their moms and started Cheer many years ago.
The school lessons in the whole week were kinda understandable for me and I was glad I didn´t had to participate in the exams. All the athletes are so stressed out because they have to have like to Minds- one for school stuff and one for their training. Especially Mor-gan told me how hard it is. So if you wanna go to a College and do a sport there besides studying think well if u have the passion to do that.
I basically just saw some of the are around campus because i went to every lesson and practice Morgan went to- but the places i saw where worth a visit just by themselves. You might think Corsicana- What is that- but I swear to you it´s worth a trip even if you don´t have any relatives there. For example I went to the Collin street bakery and i really rec-ommend the Choclate-Strawberry Donut it´s a 100/10. We went their after practice to take a break from the stress and we often ate our stuff down the road walking around town and it´s so beautiful. I mean it´s maybe not your thing if you like big cities but it´s a great place to escape from your every day life.
Anyway after the week was over I was kinda sad to leave because it wasn´t just about seeing Morgan again it was also about all the new people i got to know, the places I saw and the attitute of Corsicana. Actually I cried a bit about leaving but next year I´m definite-ly going back so I have something to look forward to and it isn´t like we can´t keep in touch-there still is social media.
Lara, 8e
Sources:
Picture 1: https://info.navarrocollege.edu/long-form-contact-card
Picture 2: https://starcasm.net/cheer-morgan-simianer-is-officially-married-in-the-first-dress-she-tried-on/